25 Gorgeous Hairstyles For Women Over 50
Beyond the age of 50 is the time when you should feel young, fabulous, and free! But one thing that can hinder this is the worry about aging gracefully and looking old, and this can tend to drag you down. One of the best ways to give yourself a refreshing look in life and appearance is to give yourself a new haircut. Something as simple as a new hairdo can make you go from looking like a grandma to just looking GRAND!
Some things to note about the most suitable hairstyles beyond the age of 50 is to keep it simple. Shorter, cleaner, and more relaxed styles like the pixie cut, bob, and graded cuts look better on you. Pick the right one for you and ride the high of the golden ages of your life with an amazing new haircut!
Here are 21 gorgeous hairstyles that are the most suitable for women over 50:
1: Modern Layered Bob
Shorter hairstyles are best suited for women over 50, and one of the classiest styles is the bob. This is a versatile way to style your hair, and its low maintenance as well. The added element of layers brings it up-to-date and makes it modern as well! It works best on you if you have straight hair that is of moderate thickness, but if not, move on to the next one!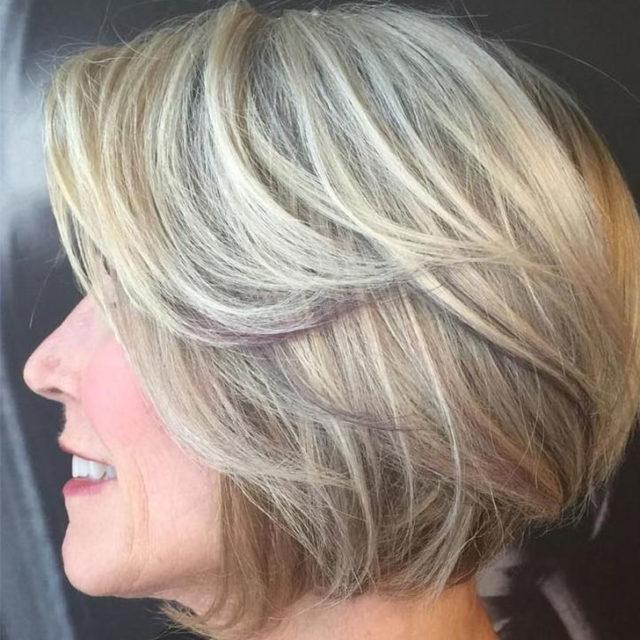 2: Sassy Pixie Cut
If you thought the bob was low-maintenance, you haven't met the pixie yet. Maintaining long hair can be tiresome, especially as you get older, which is why this is the perfect 'do for you! This haircut plays with angles and layers that make it look sassy and sexy. Couple it with some side-swept bangs and you've got yourself a winner!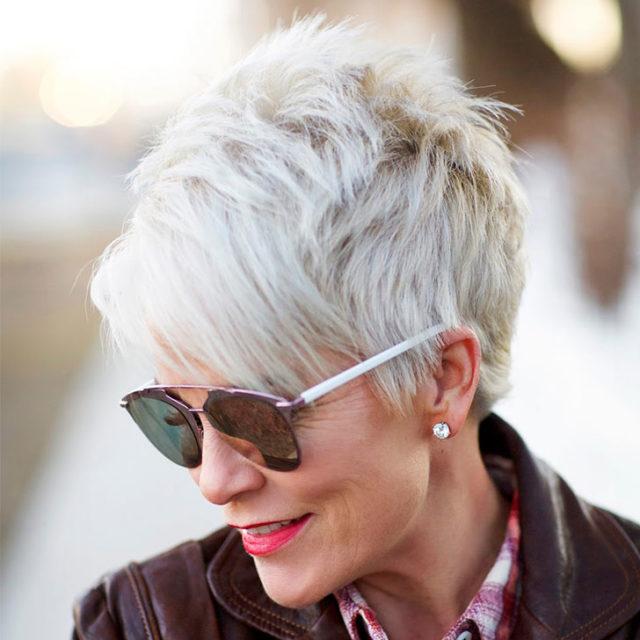 3: Medium Layered Haircut
If you're not ready to jump on the bandwagon of super short cuts, no worries, you can try this medium layered haircut. Layered cuts are all the rage these days, and with this hairstyle, you'll look modern, elegant, and youthful without having to resort to crazy hairstyles. This hairstyle best suits brunettes.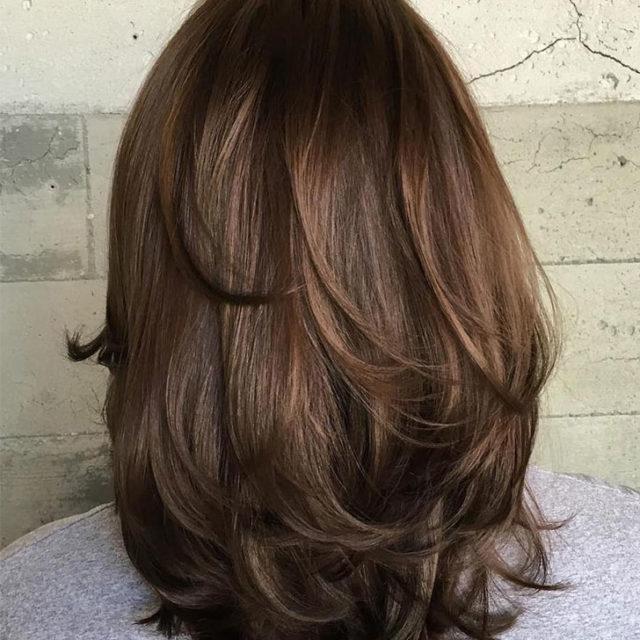 4: Blonde Pixie Cut
This blonde pixie cut is cropped short at the back and comes with a set of choppy bangs that draw attention to your eyes. If you've got blonde, or lighter hair, this pixie cut might be your best choice. Remember, a smile is your best accessory!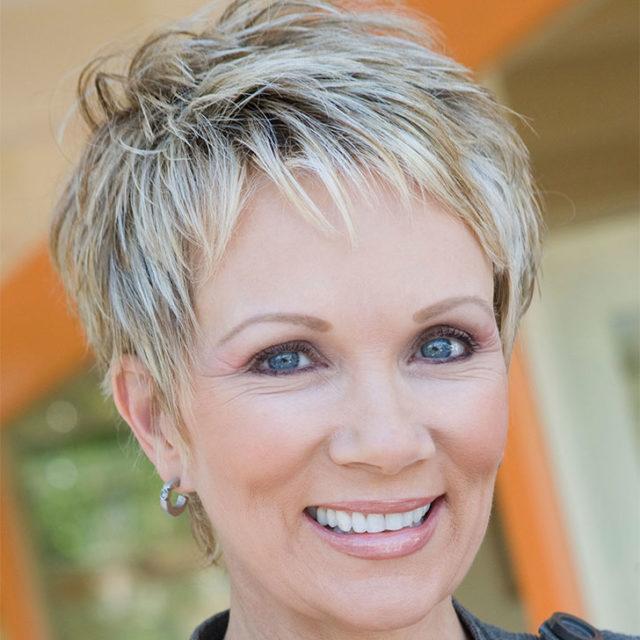 5: Long Gray Hair
It's not just girls in their 20s that can pull of the long and loose hair trend. Naturally gray hair can also look great, if you know how to style it. Taking care of it is key, so it looks shiny and soft, instead of drying out. Pair it with an off-center part or side-swept bangs to hide your higher hairline.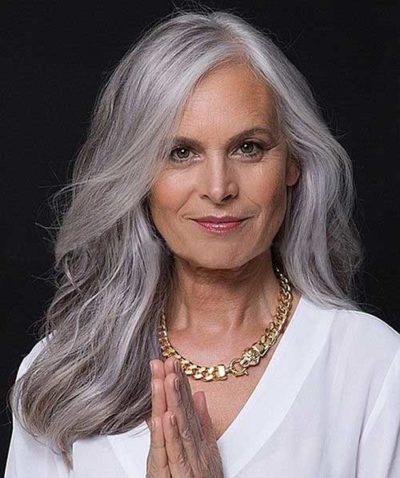 6: Shoulder-Length Flip
The shoulder length flip is perfect for those that want a little bit of height to their hair (which will allows for more versatility when it comes to styling), but also stay away from the hassle of maintaining long hair. The slight "flip" at the bottom of the style adds some character to the 'do without taking away from it's natural look.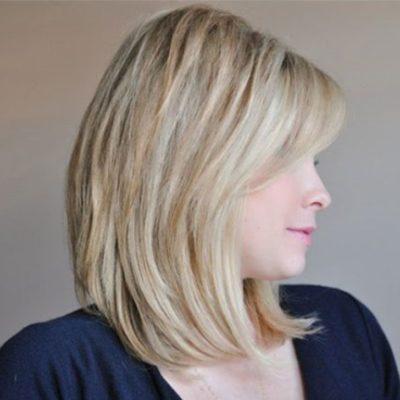 7: Sleek Chin-Length Bob
While some might want to go the route of tousled, messy, and natural, others prefer sleek, elegant, and stylish – and there's nothing wrong with either of them! If you fall into the latter category, this sleek chin-length bob is one of the best choices you can make. The sharp angles make your hair look shiny and classy which will make you look in-trend and fresh.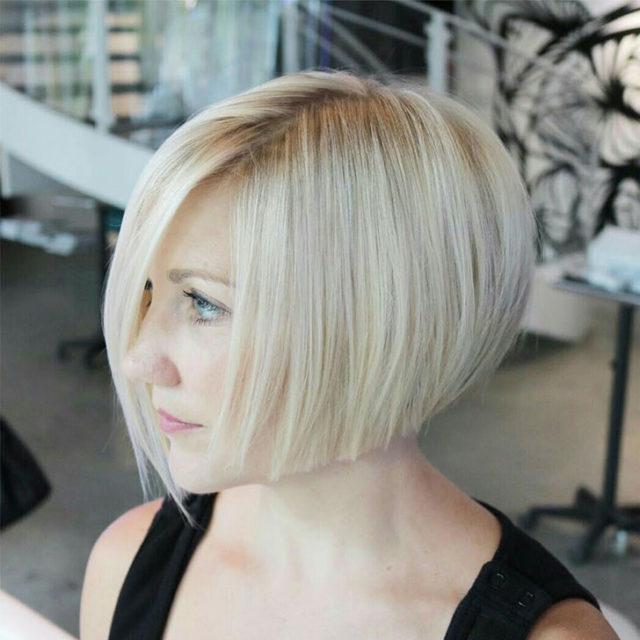 8: Platinum Wavy Lob
If you've got graying hair, why not go all out and dye it platinum? This is a great hair color for women over 50 to rock. This wavy lob is a great hairstyle that suits this hair color. It looks young and modern, and gives your hair the freedom to move freely, while not being too hard to maintain either.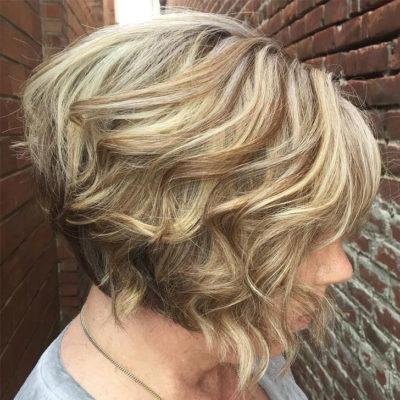 9: Rounded Bob
This rounded bob is one of the classiest hairstyles on this list, because it suits women of all ages. This hairstyle is sleek, elegant, and frames your face perfectly. Add some sleek side-swept bangs to your look to compliment the overall look of it. Pair this stylish hairstyle with a youthful attitude, and nothing can stop you!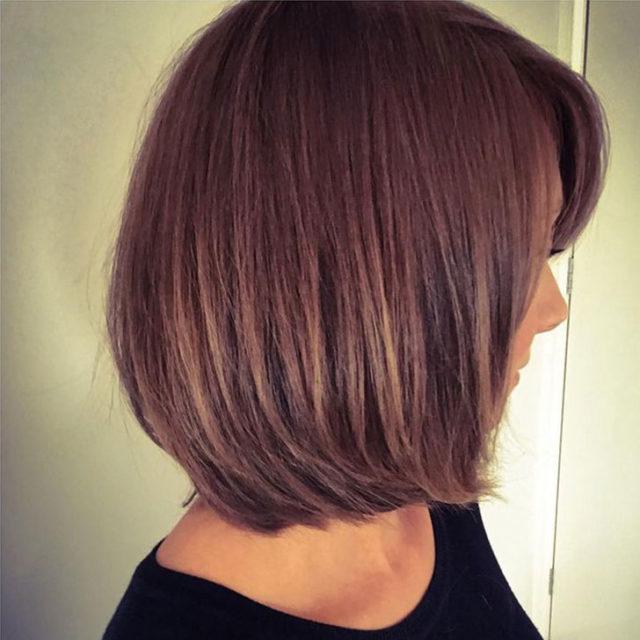 10: Wavy Lob
You don't have to overly complicate your look just because you want to try something new. If you prefer to stay on the safer side of things, this shoulder length hairstyle is a great choice. Those wavy locks will help keep your hair looking natural and free, and if you're feeling bold, a set of bangs can be your something "new".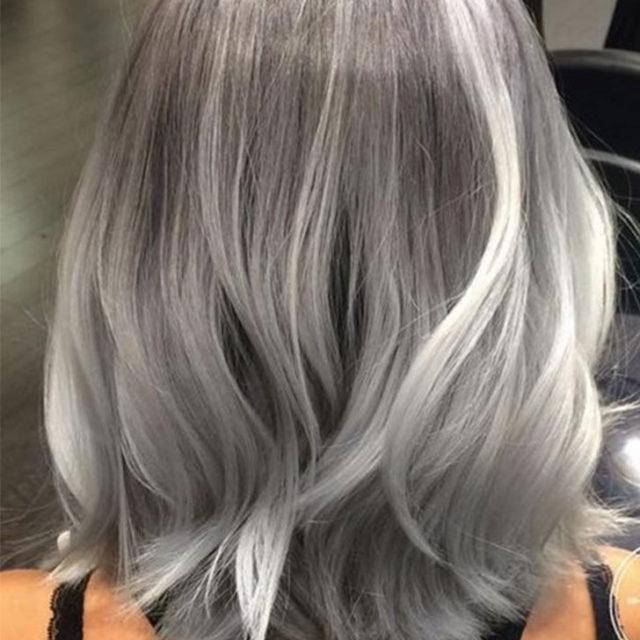 11: Wispy Balayage Bob
Sure, you've got yourself a bob, but maybe that's not good enough for you. Introducing the balayage! This is a great way to color your hair to make it look young and trendy, because it suits women of all ages. The balayage method of dying is perfect because the result is more natural-looking – and not to mention, gorgeous!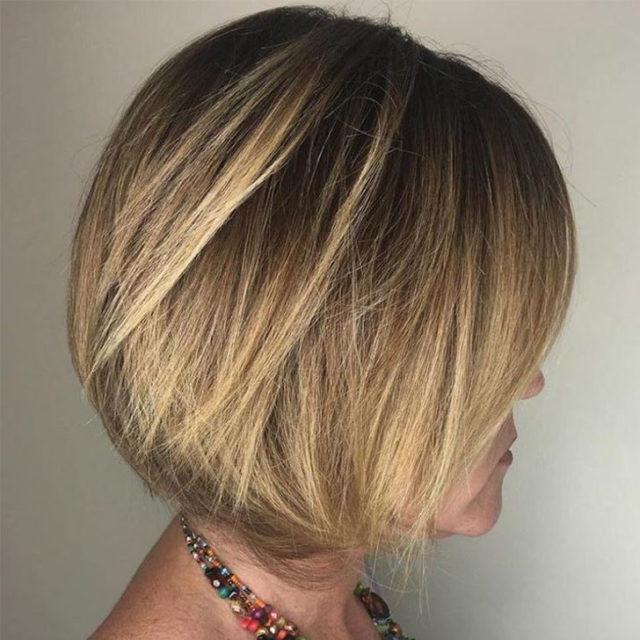 12: Round Layers
Go for this hairstyle if you want a medium-length hairstyle that looks great but is also low-maintenance. The layers frame your face beautifully and add dimension to your look. And you don't have to rush to the stylist every time your hair grows a little bit because it handles extra growth really well.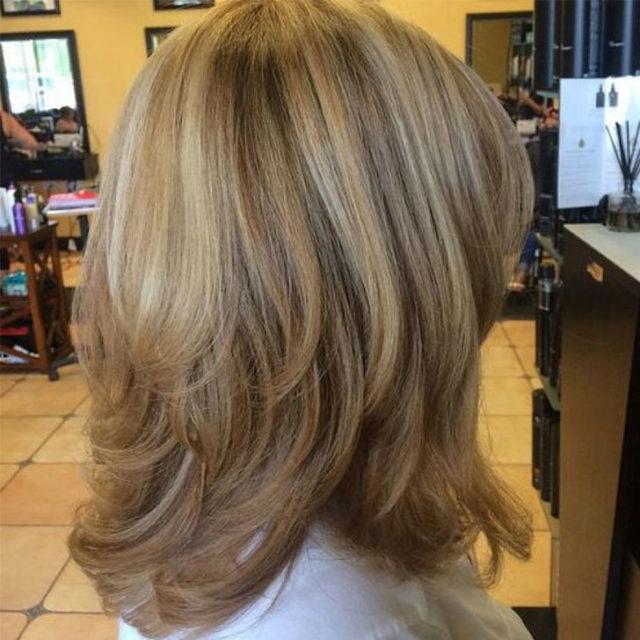 13: Wispy Fringe Cut
This cut is another way you can rock the super short hair trend. This is great for people with thin hair, as the wispiness is what makes the feathery-effect of this 'do work so well! Add a wispy fringe to the front to complete the look and you'll look super trendy.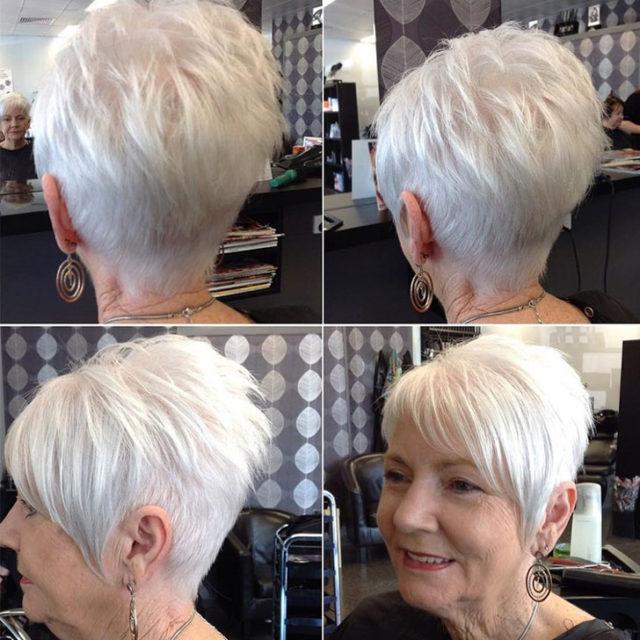 14: Graduated Bob
Messy hairstyles are in at the moment, but if you're looking for something a little cleaner, then you could try the graduated bob. This hairstyle is a variation on the modern bob, where it takes the layers and stacks them up gradually, adding height and volume to the entire look.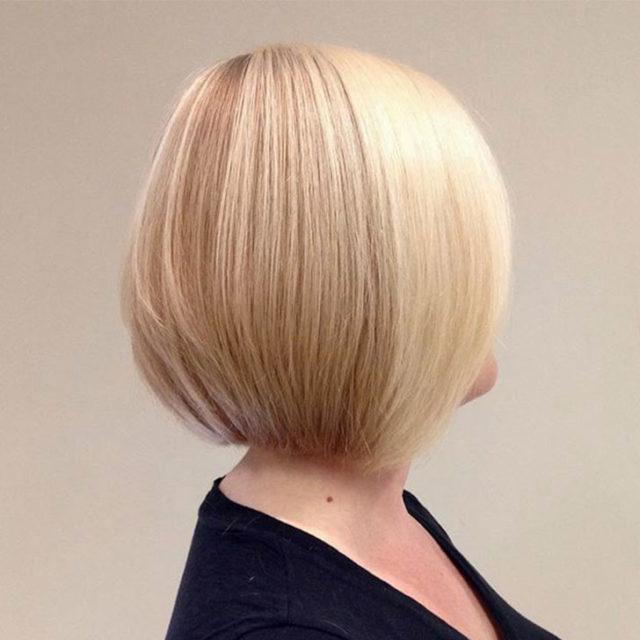 15: Asymmetric Silver Cut
This isn't just another variation of the pixie cut, this is the coolest variation of the pixie cut! An asymmetrical cut has your hair shorter on one side and longer on the other. But most importantly, it has you look elegant, cool, and super young!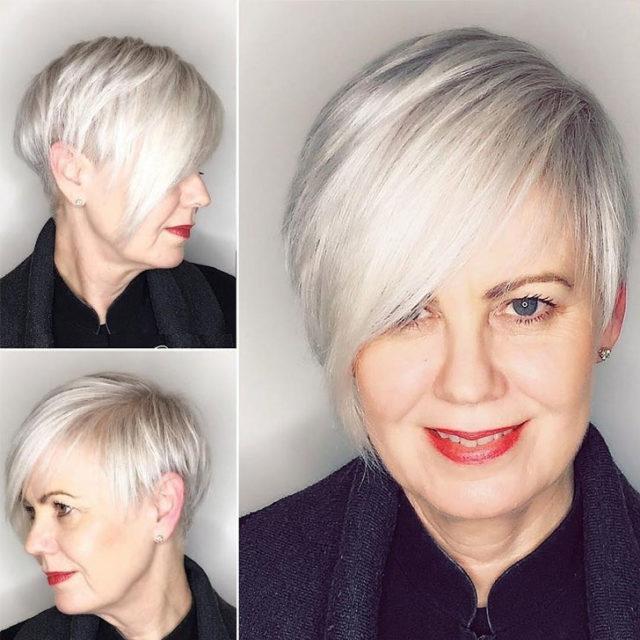 16: Long Waves
Of course, you can't go wrong with long waves. It suits women of all colors, sizes and ages, so you know it'll look good on you! Long waves are such a popular hairstyle, and we think it's because they add softness and femininity to a woman's appearance. You could pair your wavy lock with highlights, layers, or even bangs to give them more interest.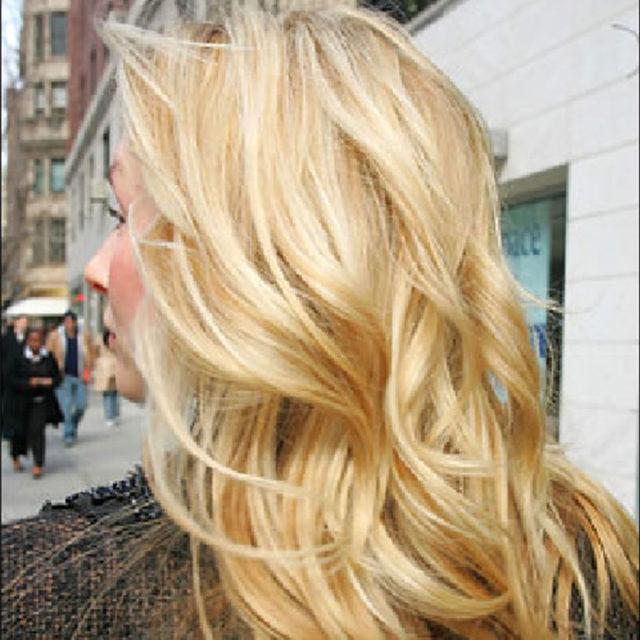 17: Fishtail Braid
Braids are one of those styles that have been and will stay around forever, so you can't go wrong with them. Not only do they look good, but there is something so feminine about them that draws you to it. While there are several kinds of braids you could try, the fishtail braid is one of your best options. It will keep the hair in one place – and out of your face – but also make you look chic and youthful.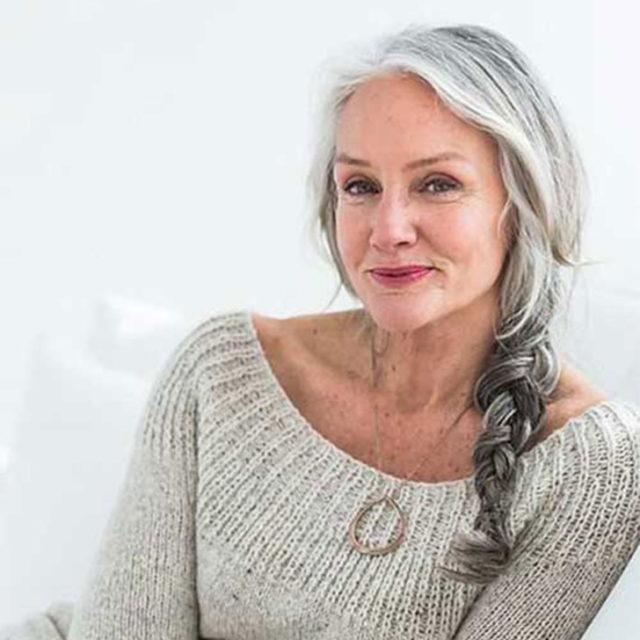 18: Bold & Spiky Pixie
Be a little adventurous with your hairdo and opt for something like this bold and spiky pixie cut. If you're wiling to take it up another notch, why not go all out and dye it a bright color – like the striking red shown in this picture? Not only does it look fabulous, it shows people you mean business when it comes to fun!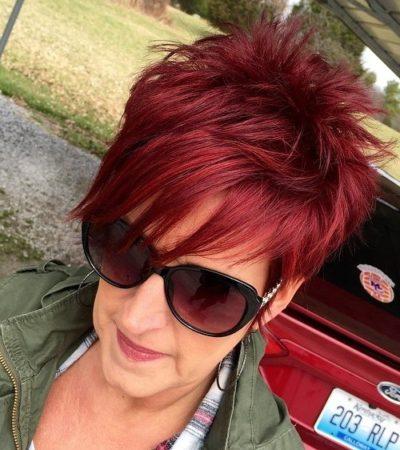 19: Long Hair with Bangs
Add a bit of softness and romance with long hair. This is probably the most versatile haircut on this list, simply in terms of the many different ways you can style your hair. And there's so much you can do to it, from highlights and color, to bangs, curls, and more. Long hair looks more natural and healthy, and is best suited for brunettes.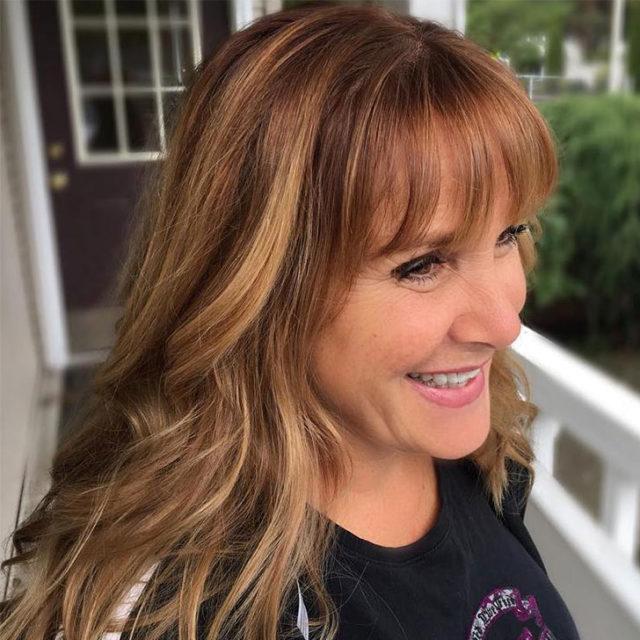 20: Gray Curly Bob with Side Swept Bangs
Just because you're 50, doesn't mean you have to hide your true self! If your hair has turned gray, embrace it with this awesome haircut. This curly bob with side-swept bangs looks so good, it might even inspire a few young'uns to copy you when they see you walking around with it!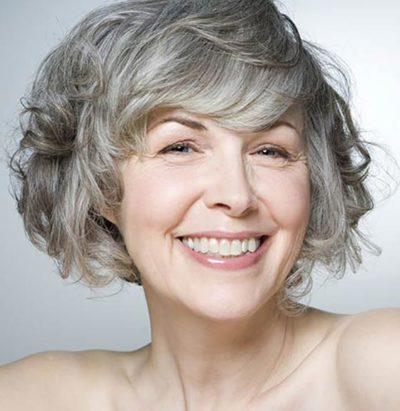 21: Highlights and Lowlights for Blonde Hair
This balayage is a perfect mixture of blonde highlights and brunette lowlights. The highlights give this hairstyle life and dimension. This look is especially for 50 year olds who still want to show off their sexy side.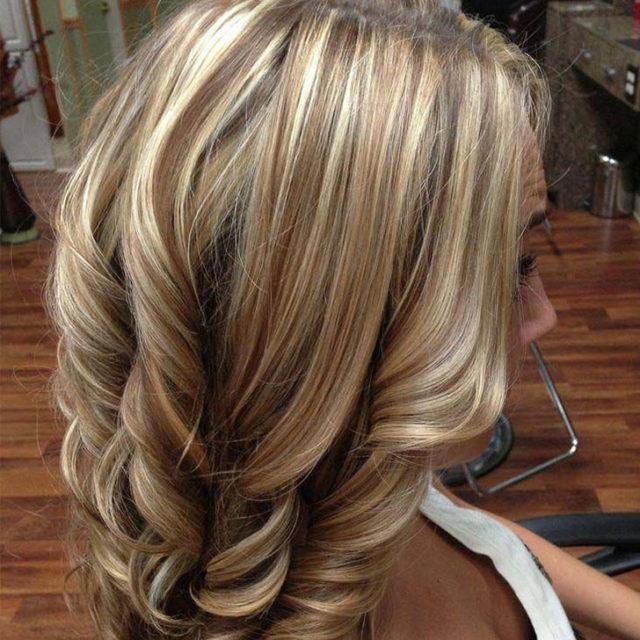 Share On Facebook